Description
Kugoo G-Booster Electric Scooter
+ Free Removable Seat
+ Extended 23Ah Battery
+
2023 Model
Take advantage of this amazing electric scooter made by KUGOO to reduce your daily commuting costs! Fully foldable and weighing only 30kg, it is suitable for lift and carry situations. With its 55km/h maximum speed and dual 800W motors, it is capable of riding on various terrains.
Having a great battery capacity and an autonomy of 85km, you don't have to worry about recharging. With front and rear disc brakes and a lighting package that ensures safe movements at night, you won't have to worry about safety.
The KUGOO G Booster Electric Scooter is the beast of electric scooters for both urban and off-road environments. The silent dual 1600W brushless motors and the powerful lithium-ion battery allow the Kugoo G Booster to travel as far as possible without worrying and reach an impressive speed of 35mph.
All our e-scooters models are handpicked to ensure the highest quality and performance. Our dedicated in-house experts at Rapid Scooter Master  thoroughly check each order before they are shipped out for an assured satisfaction.
Top Features:
Free Removeable Seat (Rapid Scooter Exclusive)
Free set of Keys
Fast and Powerful
Long Range
Easy Folding System
High Capacity Battery
Strong Aluminium Alloy
| Model | Kugoo G-Booster |
| --- | --- |
| Battery | 48V / 23 AH |
| Motor Power | 1600W |
| Max Power | 2400W |
| Max. climb capability | 35 degrees |
| Range | 53 Miles |
| Max speed | 55km/h (35 mph) |
| Charging Time | 7-9 Hours |
| Brakes | Front and Rear Disc Technology |
| Foldable | Yes |
| Scooter Weight | 30 kg |
| Shock Absorbers | Both Front and Rear Shock Absorbers |
| Max Load | 120kg |
| Tyres | 10-inch Pneumatic Tyres for Comfort |
| Voltage | 110 V-240 V, 50/60Hz |
| Folded size | 120*26*52 cm |
| Opened size | 120*26*118cm |
With a 30 kg body and 10 x 2.5″ tires for functionality and style, the G Booster folds effortlessly for quick transport. It's the best electric scooter of its class with pneumatic tires and is perfect for off-road and urban adventures.
The Kugoo G Booster scooter is easy to ride, takes 5 seconds to fold and unfold, and has a wide deck for comfortable foot positioning which improves stability while riding. The body is made of high-quality aluminum. Rear and Front high-quality disc brakes allow confident riding and that feeling of safety.
The KUGOO G Booster features a beautifully designed electronic throttle with an LCD display that provides information about travel speed, distance, a more accurate battery status indicator, and other information.
The Kugoo G-Booster Scooter is typically sold on it's own, however we have decided to include a FREE removable seat with all out Kugoo G-Boosters.
The Kugoo G-Booster is quite resilient. It feels quite strong and robust and has a bulletproof appearance and feel. It achieves exceptional product quality and durability that many scooters costing twice as much do not. It has all the additional colour touches it needs thanks to those metallic red accents on the suspension and the wheels.
The Kugoo G-Booster has something greater than looks, and that is character, with the robust stem and handlebars, the huge deck, and the classic menacing look that only a few off road scooters can properly carry off. Yes, it is a sturdy, reliable scooter that you can rely on.
Since the Kugoo G-Booster has two powerful motors, and insane torque, it will climb very well. The official climb angle is 35°.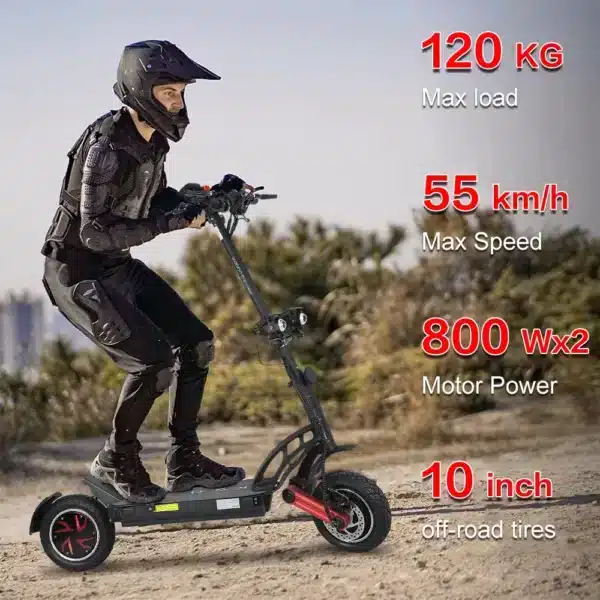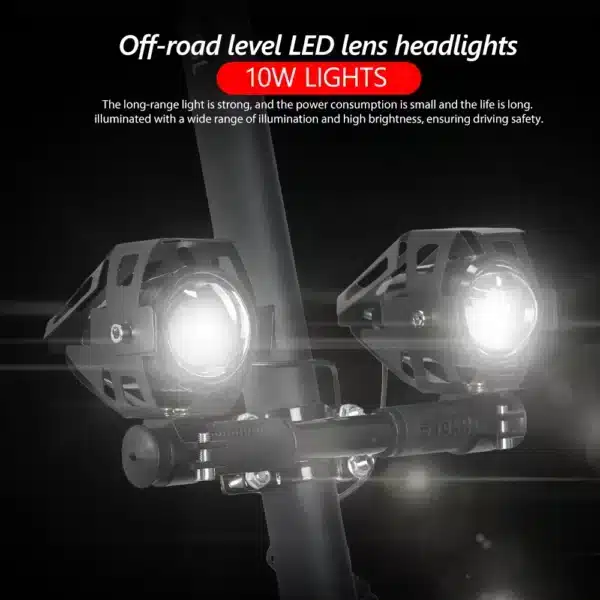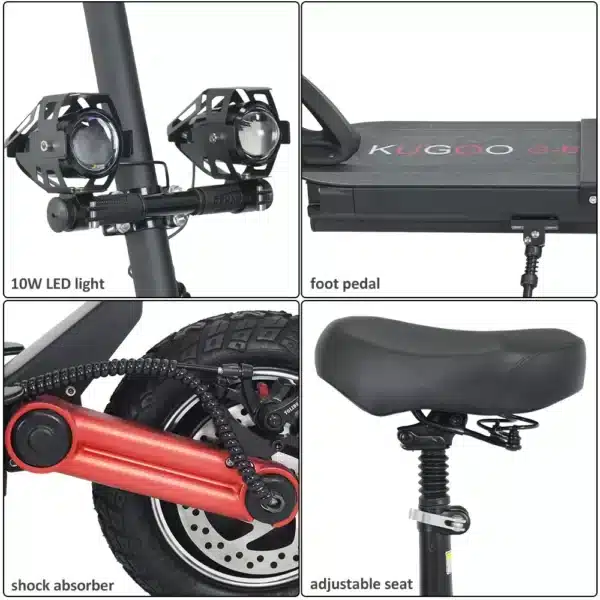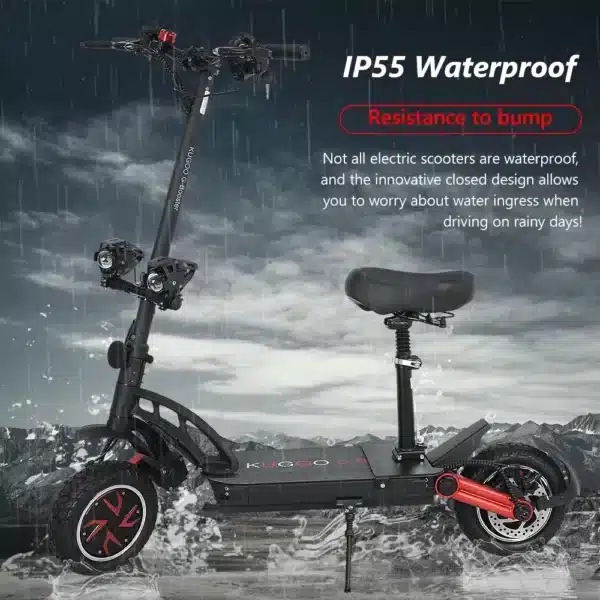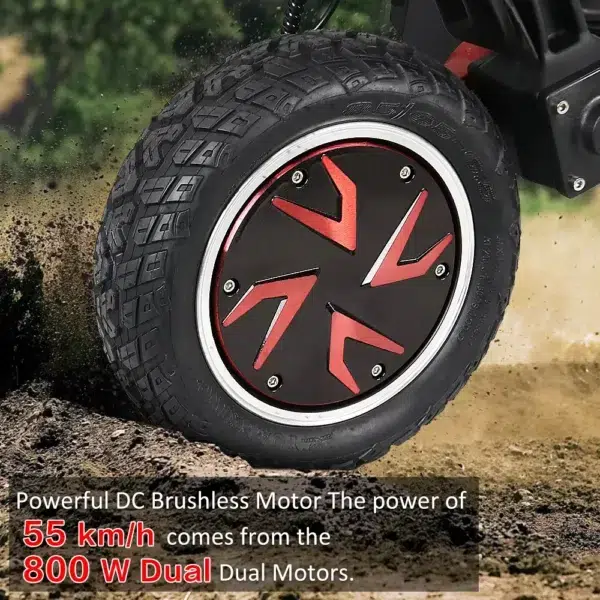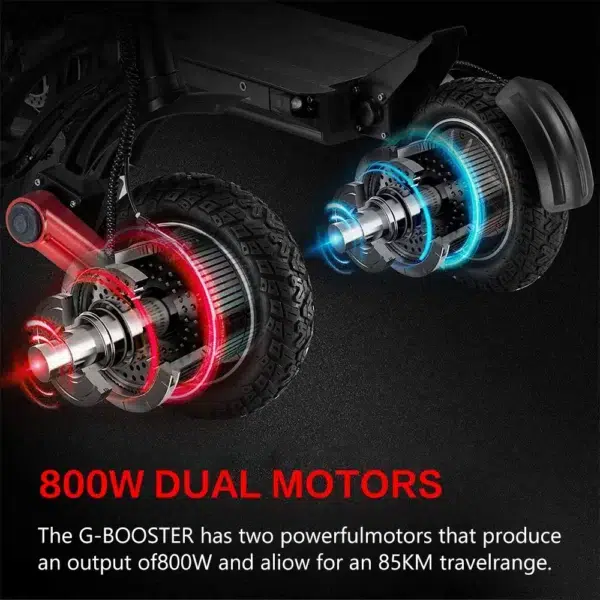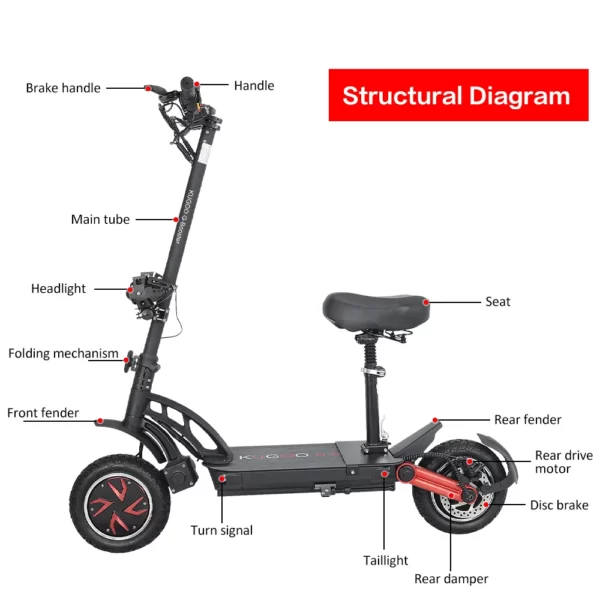 Review of the Kugoo G-Booster
How fast is Kugoo G-booster?
Kugoo G-Booster is quite fast at around 55km/h (35 mph)
Is the Kugoo G-booster splashproof?
Yes, you can ride in light rain and expect no problem. Riders are advised wiping off any water with a towel after use however.
For more information look at the detailed review published on Scooter Nerds
If you are looking for something even faster then take a look at our MiniWalker 10DDM 2000W Electric Scooter!
Range and speed are dependent on riders' weight, road surface, wind, and other conditions. This scooter is not fully waterproof, please do not ride it in extreme rain or wet conditions.