Description
T4 DUO – ZRino Dual Motor Electric Scooter
Tired of buying cheap electric scooters that break down? Check out the impressive specs of the T4 Duo by ZWHEEL! Now comes with an APP!
We're a London-based company and the T4 DUO is the latest addition to our collection. Giving you maximum reliability and build quality, we trust this scooter so much we're offering an in-house "no quibble" warranty or replacement for 12 months! You'll only ever deal with us and not jump through multiple hoops to get in touch with the manufacturer.
The T4 DUO – ZRino Electric Scooter is for you if you are looking for increased power and stability at high speeds. This machine will allow you to cruise effortlessly at high speeds with maximum comfort thanks to its unique suspension design featuring 6 suspension mechanisms. It's designed with high-grade aluminum to support high speeds, so bumpy rides won't let you down.
– FREE Next Day Shipping on all orders before 12 pm (orders placed after this time will be delivered the day after).
– All of our Electric Scooters are tested by our in-house engineers prior to shipping for guaranteed customer satisfaction.
PRODUCT SPECIFICATION:
| | |
| --- | --- |
| Model | T4 DUO |
| Battery | 48V | 13Ah (Lithium-ion) |
| Max. Motor Power | 1000W (Dual Motor) |
| Max. climb capability | 25 degrees |
| Max. Mileage | 40 km |
| Speed | 25 (Can be unlocked to 40km/h) |
| Charging Time | 5-6 Hours |
| Brakes | Front and Rear Disc Technology |
| Shock Absorber | Both Front and Rear suspension |
| Foldable | Yes |
| Scooter Weight | 22kg |
| Max Load | 120kg |
| Tyres | 10 Inch tubeless tyres |
| Certification | CE |
| Opened size | 114*100*46 cm |
| Folded size | 114*46*50 cm |
Travel further with constant power. Speed up your life by going electric.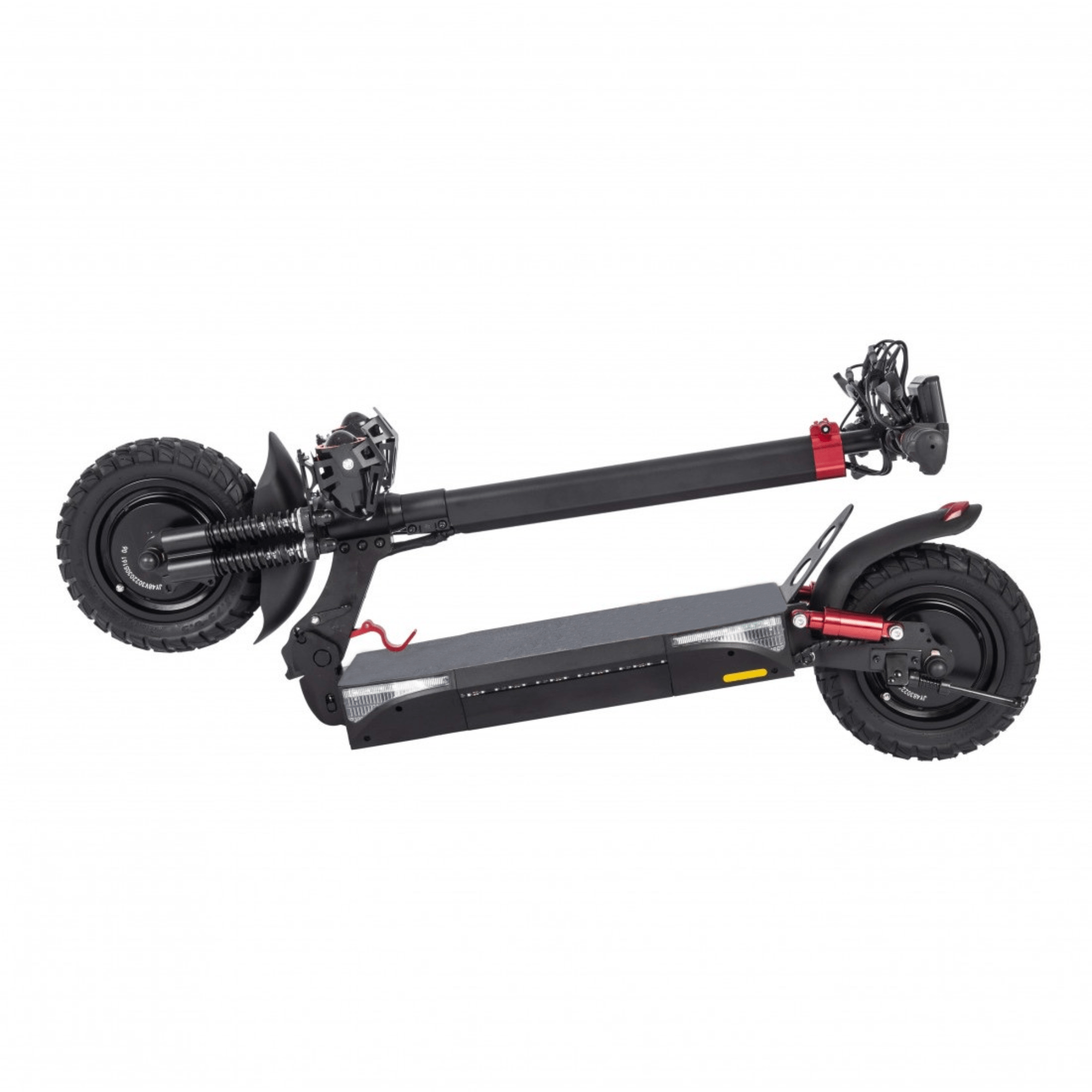 Easy Fold System
A simple yet highly strong clamp has been designed into to stem to allow you to fold and use it on the go. The clamp has been reinforced to ensure greater strength, thus preventing a fracture.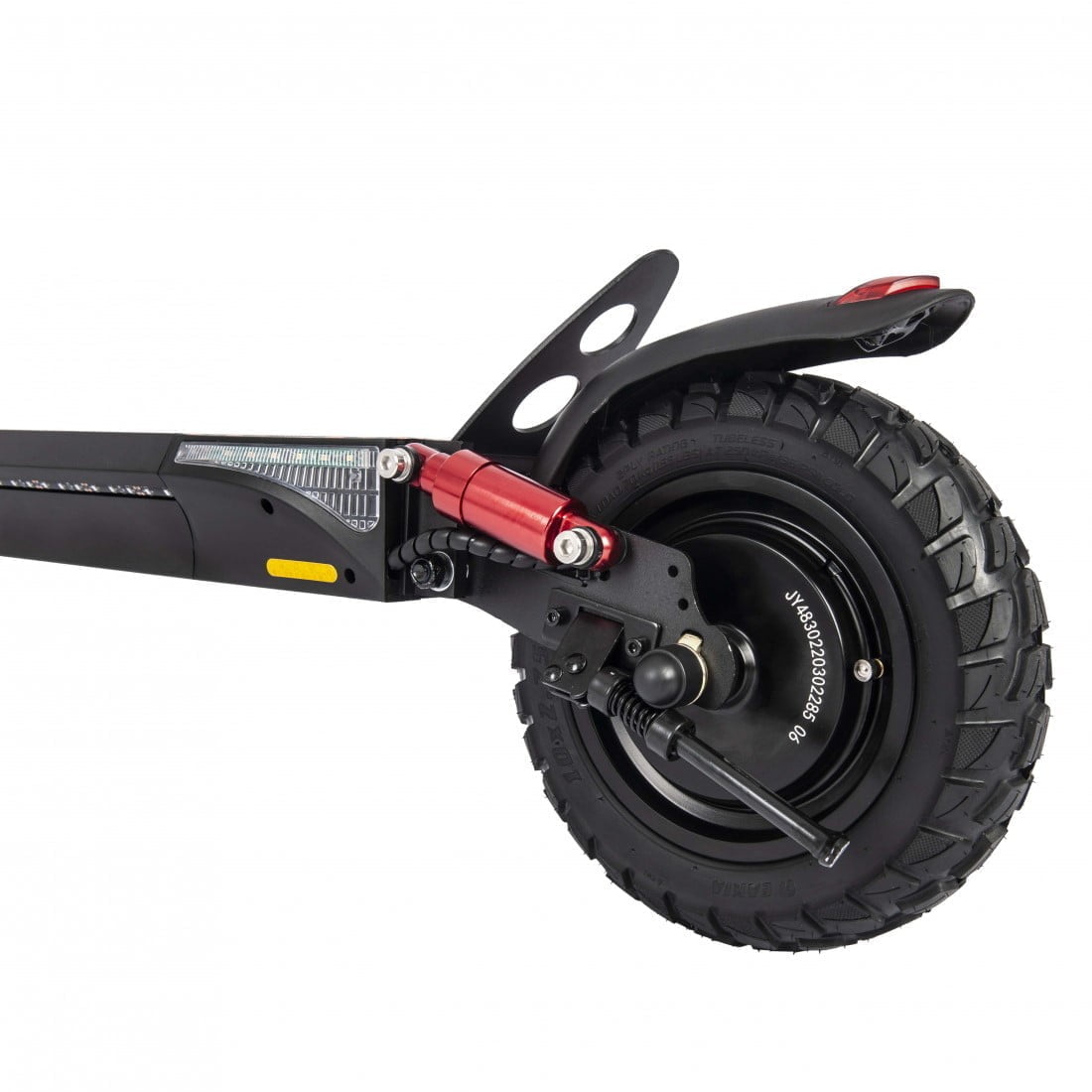 Climb Faster. Accelerate Constantly
With dual motors that deliver an overwhelming output of 1000 W, You won't have to lose momentum again. After incorporating customer feedback into the new motor design the T4 DUO is now more powerful than ever.
Real Display. Real Speed
The T4 DUO comes equipped with a clear digital display with multiple settings to adjust top speed, accurate battery level and much more! The extra bright front LED spotlight gives great visibility when cruising at night
New Led Screen and new Control Panel
We have improved by separating the control panel and the legend screen. With this new panel , we continue to use buttons that are easy to use. And with the LED type screen, we have enlarged its size so that the information displayed is easy and clear.
Safety and Comfort
The safety and comfort of this electric scooter make it the best off-road model in the range. Being 100% reliable to travel roads both in the city and on irregular mountain terrain. It has selectable led indicators, front light and information panel. This electric scooter is designed for adults.
Forget traffic jams
Large 13Ah battery to enjoy a range of up to 40km . Highly reliable 10″ ultra resistant wheels . Save your trips and time, taking care of the environment. You can face braking and unevenness with much more comfort thanks to the double disc brake and double suspension, both rear and front.
Ideal for the hills
This 4×4 electric scooter is ideal for your excursions to the mountains/hills or journeys through more irregular terrain. Its 10″ wheels , larger than those of urban scooters, will provide you with maximum comfort and greater control on dirt roads. In addition, thanks to its angle of inclination, you will be able to face climbs in the mountains without any problem.