Description
Kugoo G2 Pro Electric Scooter
+ Genuine Kugoo
+ Extended 15 Ah Battery
+
2023 Model
Introducing the most powerful single motor Electric Scooter by Kugoo. The amazing Kugoo G2 Pro E-scooter will take your daily rides to the next level. Fully foldable and weighing only 23kg, it is suitable for folding into a car and can be easily stored away when not in use. With its 45km/h to 50km/h maximum speed and 800W powerful rear motor, it is capable of riding on steep angles, rough roads, and uneven surfaces with absolute ease.
Our model of this scooter comes with a high-quality lithium battery which will allow you to ride a distance of up to 50km before needing a recharge. This means you don't have to worry about recharging and can focus on having fun and enjoying your ride. The G2 Pro comes with extra durable brake disks for both the back and front and a powerful front light making riding in the dark easier and safer.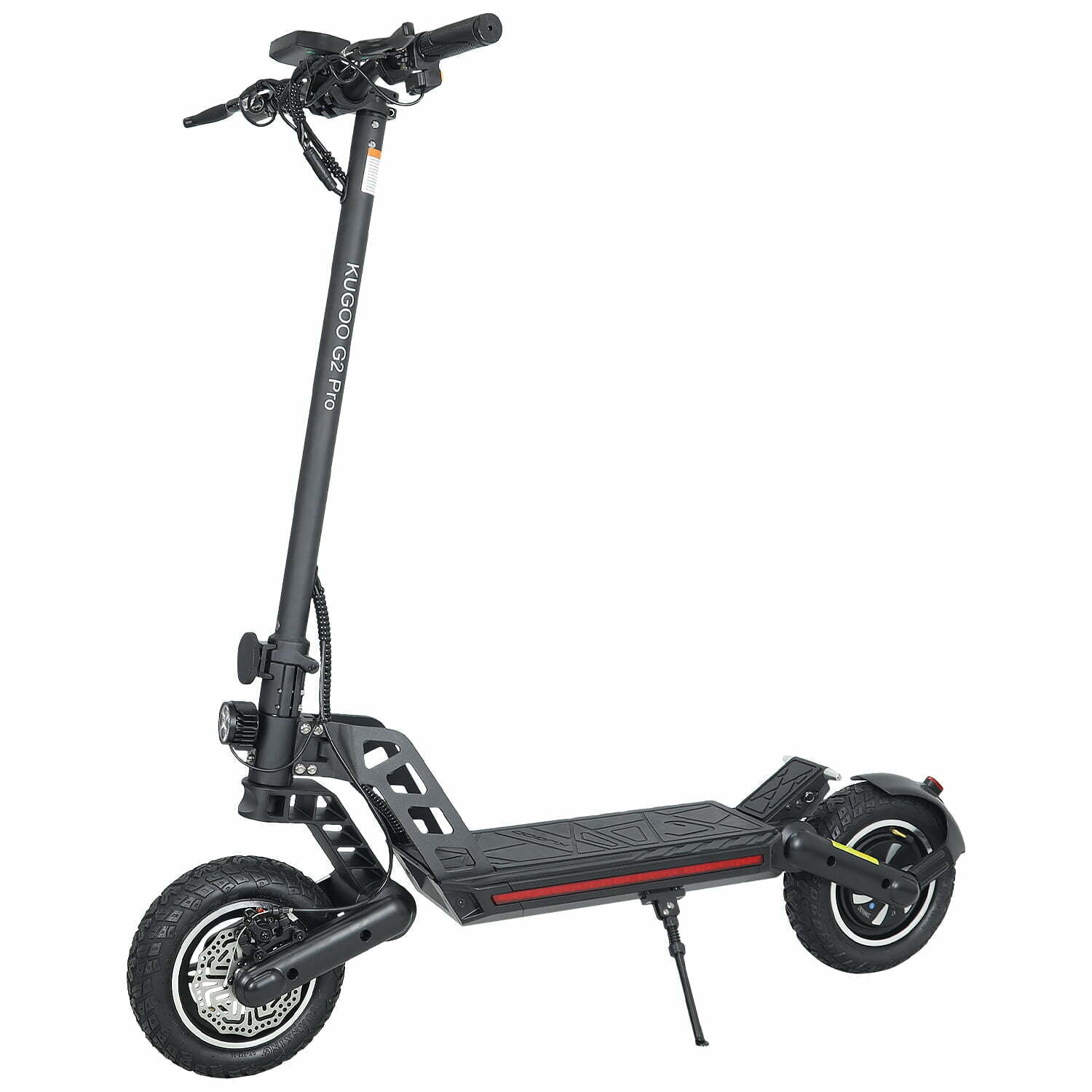 The KUGOO G2 Pro Scooter is the beast of electric scooters for both urban and off-road environments. The silent 800W brushless motor and the powerful lithium-ion battery allow the Kugoo G2 Series to travel much further whilst maintaining a smoothness that's never seen before. Buy your Kugoo Electric Scooter today with Next Day delivery anywhere in the UK.
With a 23kg body and 10 inch tyres for functionality and style, the G2 Pro folds effortlessly and is light for quick transport. It's the best electric scooter of its class with pneumatic tyres and is perfect for off-road and urban adventures. This model is also is IPx5 Waterproof giving you the freedom to ride in rain or any weather conditions!
Top Features:
SMART-DO Intelligent Control
Easy Quick Fold
LED Belt
| Model | G2 Pro |
| --- | --- |
| Battery | 48V / 15 AH |
| Motor Power | 800W |
| Max. climb capability | 35 degrees |
| Range | 31 Miles |
| Max speed | 45-50km/h (31 mph) |
| Charging Time | 4-6 Hours |
| Brakes | Front and Rear Disc Technology |
| Foldable | Yes |
| Scooter Weight | 23 kg |
| Shock Absorbers | Both Front and Rear Shock Absorbers |
| Max Load | 130kg |
| Tyres | 10-inch Pneumatic Tyres for Comfort |
| Voltage | 110 V-240 V, 50/60Hz |
| Folded size | 117 x 25 x 49.5cm |
| Opened size | 120 x 51 x 114cm |
The Kugoo G2 Pro e-scooter is easy to ride, takes 5 seconds to fold and unfold, and has a resdesigned deck for comfortable foot positioning which improves stability while riding. The body is made of high-quality aluminum and its durable high-quality disc brakes allow for confident and safe cruising at high speeds.
This machine features a beautifully designed electronic throttle with an a brand new centered LCD display that provides information about travel speed, distance, a more accurate battery status indicator, and cruise control settings.
The Kugoo Scooters are typically sold on their own, however we have decided to include a FREE toolkit with all our E-scooters.
The Kugoo G2 series is quite resilient. It feels quite strong and robust and has a bulletproof appearance and feel. It achieves exceptional product quality and durability that many scooters costing twice as much do not. It has all the additional colour touches it needs thanks to those metallic red LED strip which follows the frame of the scooter. The battery is one of the most reliable of all the batteries in the market, with an award winning rating, this model and has the Rapid Scooter Master seal of approval.
This scooter has something greater than looks, and that is character, with the robust stem and handlebars, the redesigned deck, and the classic menacing look that only a few off road scooters can properly carry off. Yes, it is a sturdy, reliable scooter that you can rely on. Since it has a powerful 800W motor rear, and an insane torque, it will climb very well. The official climb angle is 30°.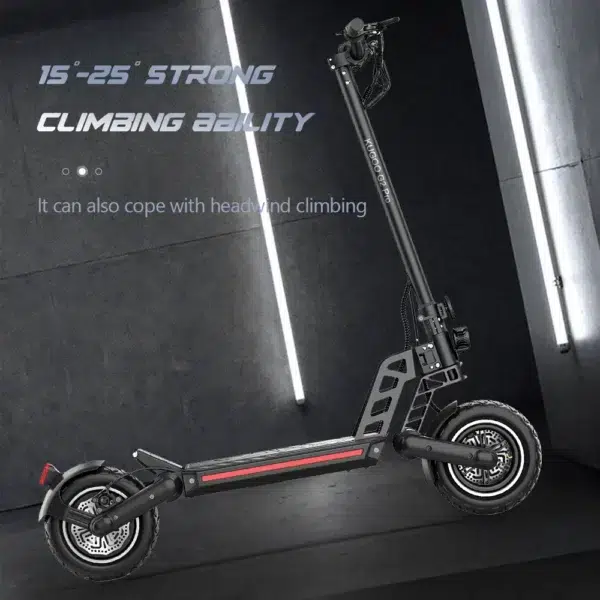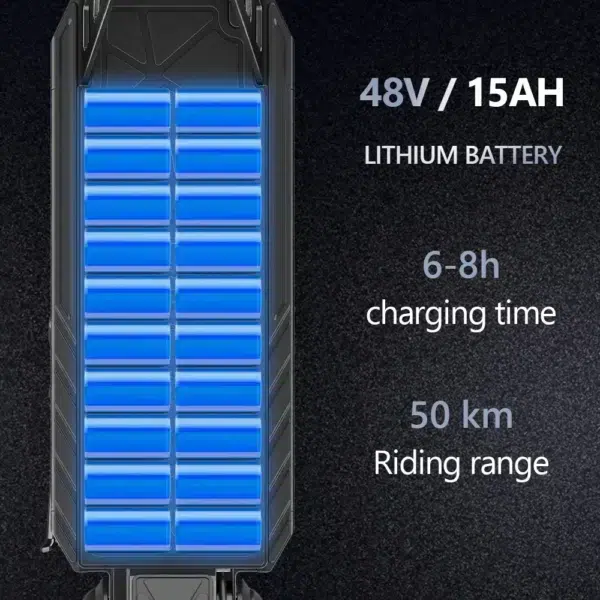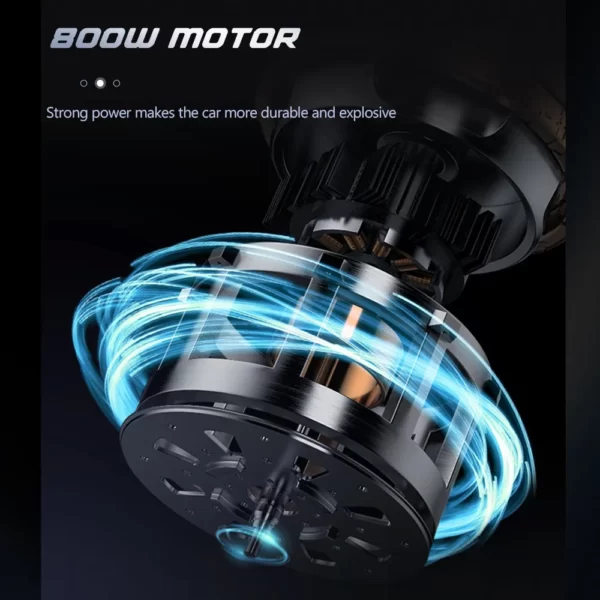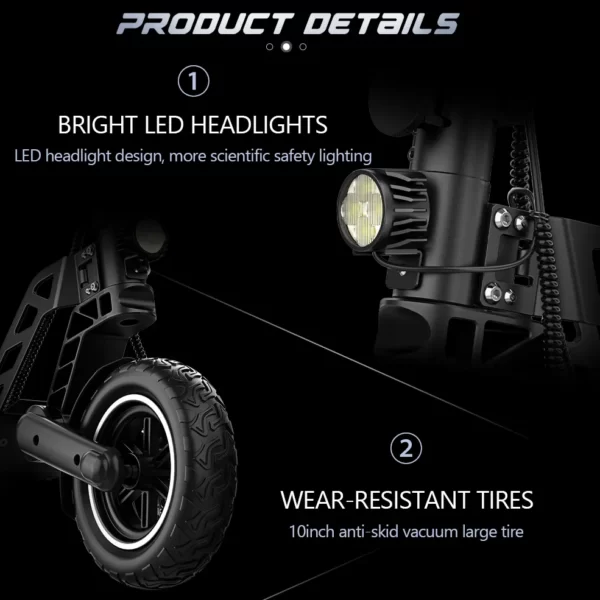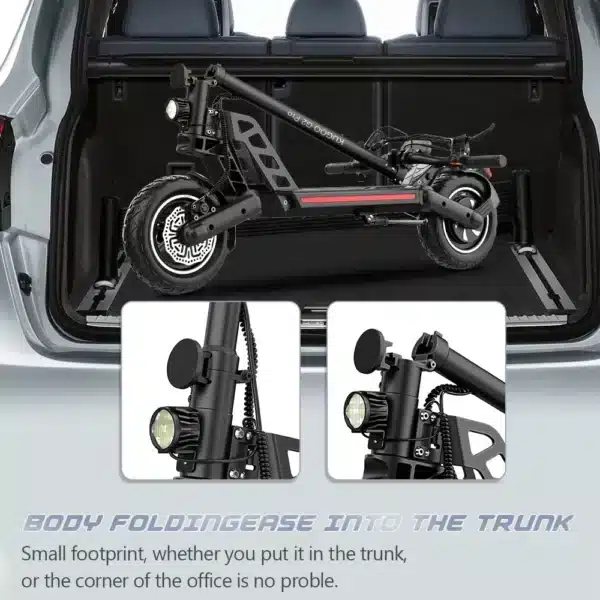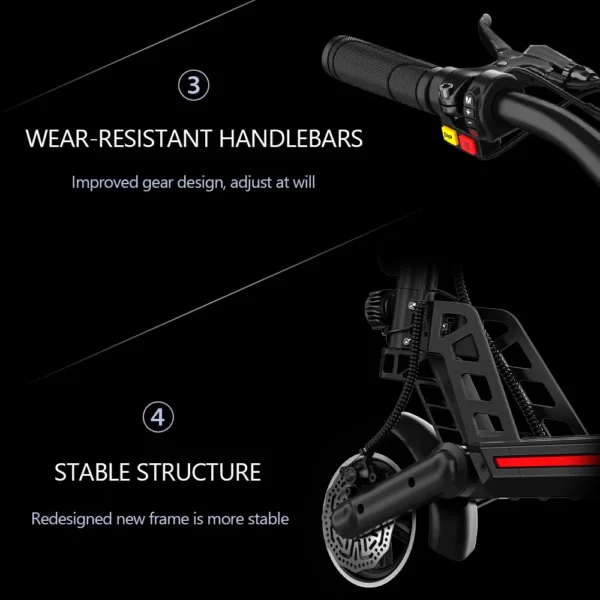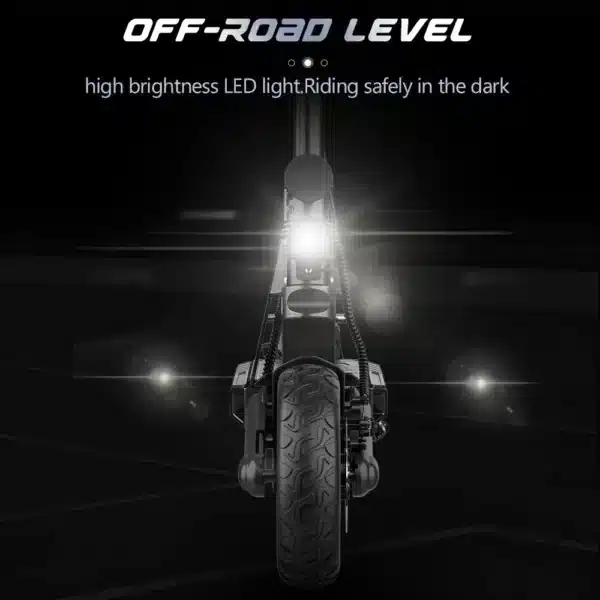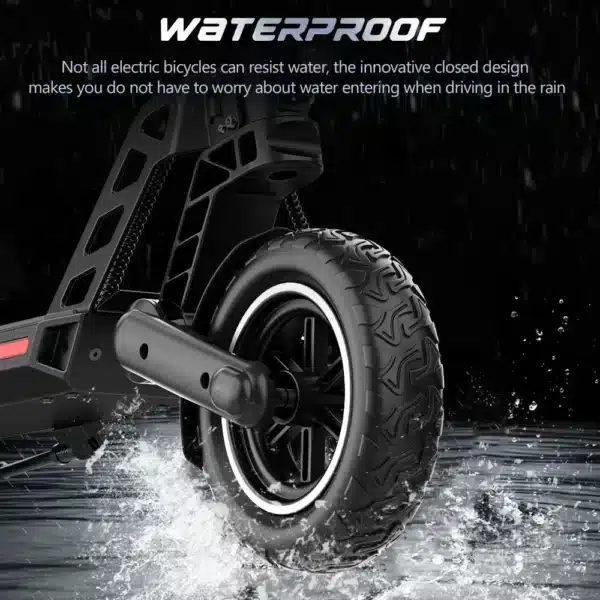 Review of the Kugoo G2 Pro
How fast is G2 Pro?
Kugoo G2 Pro is quite fast at around 50km/h (31 mph)
Is the G2 Pro waterproof?
Yes, it is. IPX5 rated. You can ride it in rain!
For more information look at the detailed review published on Scooter Insider
If you are looking for something even faster then take a look at our MiniWalker 10DDM 2000W Electric Scooter!
Range and speed are dependent on riders' weight, road surface, wind, and other conditions. This scooter is not fully waterproof, please do not ride it in extreme rain or wet conditions.