Description
Stand 2.0 Electric Scooter
+ 2023 Model
Easily portable, whether in a car or on public transportation.
It folds quickly, effortlessly, and in an impressive and distinctive manner.
This device combines the latest innovations in the industry, offering practical electric scooter capabilities, an extended battery life with efficient energy utilization, advanced intelligent lighting, and a distinct structural design developed by the company.
It prioritizes overall visibility and rider safety while maintaining durability and strength, featuring quality and innovative technological engines and a remarkable birch wood riding surface.
This development is truly unique and original, setting new standards in the global electric scooter industry.
Thanks to the extra-long wheelbase, it offers exceptional stability and safety for extended use.
The engine operates quietly and includes an individual cooling system. Plus, there's a front shock absorber to enhance the riding experience.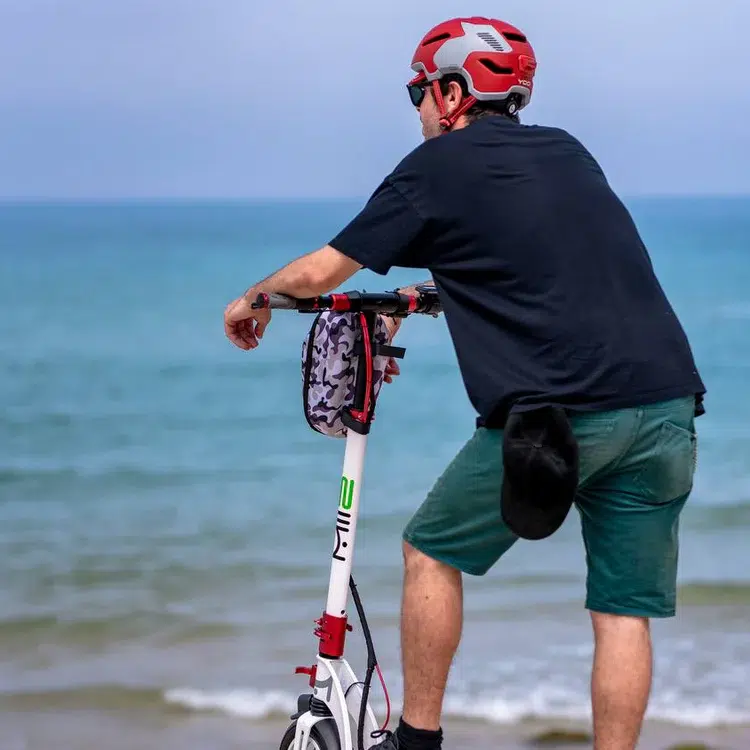 Key Features
Made of quality aluminium T6\6061. 

Quick charge time of 4 hours. 

Silent brushless electric motor. 

Side strip LED lights, front bright LED light and rear brake light. 

Handpicked by our in-house experts at Rapid Scooter Master
| Model | | | | STAND 2.0 |
| --- | --- | --- | --- | --- |
| Motor Power | | | | 250W |
| Battery | | | | LG 48V / 9Ah |
| Motor Power | | | | 250W |
| Wheel Typre | | | | 8.5" CST Tyres |
| Max. climb capability | | | | 15 degrees |
| Range | | | | 18.6 Miles (30km) |
| Max speed | | | | 25 Mph (40km/h) |
| Charging Time | | | | 3-4 Hours |
| Brakes | | | | Front and back disc brakes |
| Foldable | | | | Yes |
| Scooter Weight | | | | 13.2 kg |
| Water Resistance | | | | Waterproof IP65 |
| Max Load | | | | 100Kg |
| Opened dimensions | | | | 105 by 55 by 116cm |
| Folded dimensions | | | | 105 by 21 by 42cm |